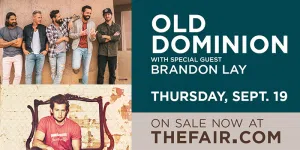 94.9 The Wolf is excited to welcome Old Dominion to the Washington State Fair in 2019. Thursday Sept. 19th, catch Old Dominion and Brandon Lay in concert. Tickets are on-sale NOW, get yours HERE. Visit www.thefair.com/subscribe and join the FREE E-Club.
---
2018 ACM Vocal Group of the Year winner, Old Dominion, has emerged as one of the hottest breaking bands in country music, fusing clever lyrics and an infectious sound. Proving that they are not your average country band, Old Dominion blends old-fashioned country charm, lyrical wit and rock n' roll grit into radio-friendly, hook-heavy pop nuggets.
Old Dominion's sophomore album, Happy Endings, debuted at No. 1 on the Billboard Country Albums chart and No. 7 on the Billboard Top 200. Their latest single, "Hotel Key," follows the success of previous singles "No Such Thing As A Broken Heart" and "Written in the Sand," both of which hit No. 1 on Billboard Country Airplay and Mediabase charts.
To top it off, each and every single OD has released has been certified Platinum by the RIAA. In 2016, the band was notably named ACM New Group of the Year, ACCA Breakthrough Group of the Year, AIMP Songwriter Artist of the Year and Music Row Breakthrough Artist of the Year. Old Dominion consists of lead singer Matthew Ramsey, lead guitarist Brad Tursi, multi-instrumentalist Trevor Rosen, bassist Geoff Sprung and drummer Whit Sellers.
Growing up in Jackson, Tennessee, Brandon Lay lived out the songs of John Mellencamp, Alan Jackson and Bruce Springsteen. He played sports during the day, fixed up cars after school and eventually wrote down his experiences in song, telling not only his story, but the story of other kids raised in small town America.
Now signed to EMI Records Nashville, he's able to share those songs on a grand scale, beginning with his autobiographical debut single "Speakers, Bleachers and Preachers." Inspired directly by
Brandon's life, the song spells out right in its title the three chief influences that shaped him. There was always country music on the radio, he played basketball, football and baseball, and his dad spread the gospel on Sundays as a minister.