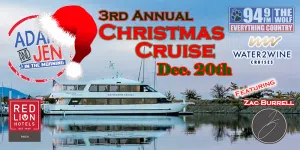 Adam & Jen in the Morning wanna thank you for spending your mornings with them all year long and we're wanting to take you on our 3rd Annual Christmas Cruise courtesy of Water2Wines Cruises.
Thursday Dec. 20th we depart from Columbia Poiont Marina for a 2hr cruise on the Columbia River. Dinner provided by Red Lion Pasco and special guest Zac Burrell will be on board performing LIVE.
Listen weekday mornings to Adam & Jen for their Christmas Cruise Cue-2-Call around 7:40a to WIN your boarding passes. Gifts for everyone on board plus you just might walk away with a Traeger Grill or tickets to Dierks Bentley's Burnin Man Tour in Tacoma on Feb. 1st.