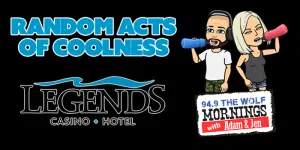 94.9 The Wolf and Legend's Casino are back at it again this Summer doing our best at keeping you COOL while you work. If you're working out in this HEAT we wanna give you a break… A Wolf Water Break!!
Fill out the form below and let us know where you're working and Adam & Jen just may show up with bottles of water on ice for you to enjoy while you take a break. It's okay we'll cover for you with the boss.
Special thanks to Legend's Casino Hotel – Come Stay, Come Play!